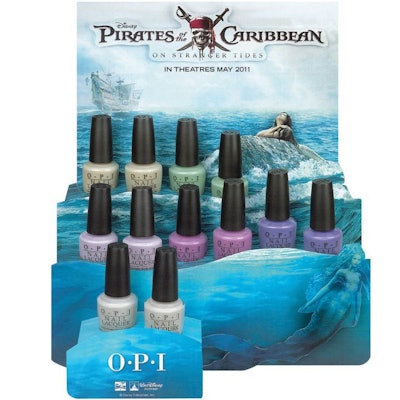 OPI Products wants you to bring the excitement of the Pirates of the Caribbean movie franchise to nails.
The company will launch its Spring 2011 BRIGHTS Collection in May, which features six limited-edition nail lacquers and a Silver Shatter effect in honor of Pirates of the Caribbean: On Stranger Tides.
"OPI is thrilled to celebrate the latest film in this beloved series," said Suzi Weiss-Fischmann, OPI executive vice president and artistic director. "The lacquers were inspired by a world filled with mythical mermaids, gleaming treasure and high-seas adventure."
---
Post your nail art in our Users' Nail Art Galleries » and share, vote or link from your own nail art blog! Don't miss our  digital edition for step-by-step nail art » and check our website's nail art archives » for nail art you might've missed!
---
The colors in the collection include: Skull & Glossbones, a pearl gray; Mermaid's Tears, a jade green; Steady as She Rose, a pastel pink; Planks a Lot, a dramatic purple; Sparrow Me the Drama, a perfect pink; and Stranger Tides, a sage hue.